Up Hill Contest 2014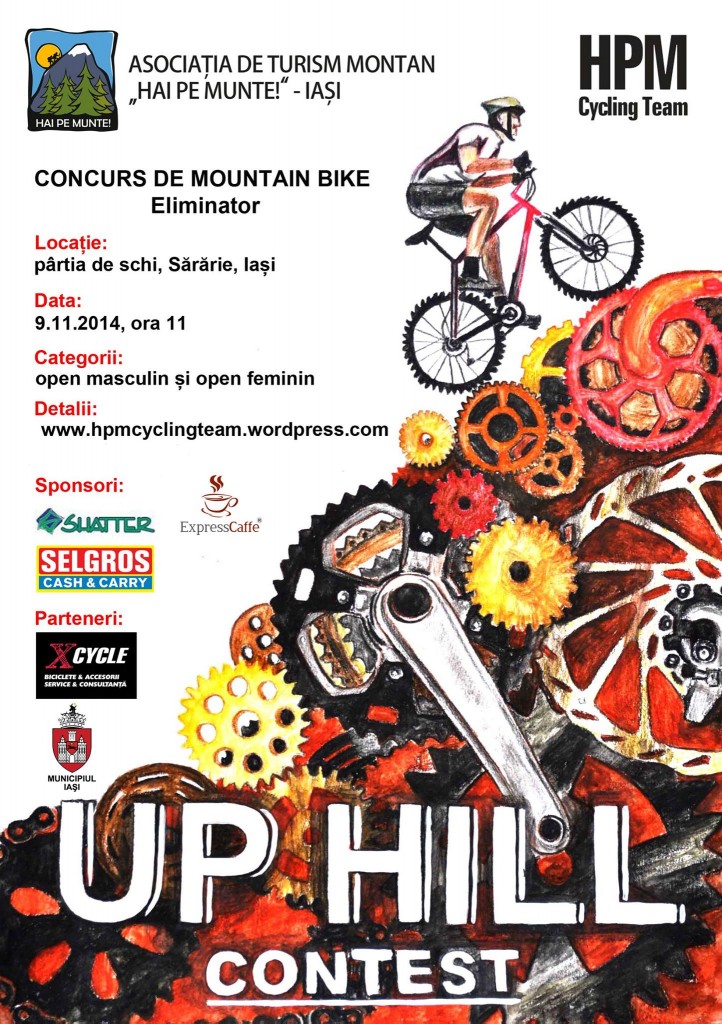 Asociaţia de Turism Montan "Hai pe munte!" Iaşi, HPM Cycling Team şi Magazinul X-Cycle vă invită să participaţi la a patra ediţie a concursului de ciclism "Up Hill Contest", desfăşurat ca în fiecare an pe pârtia de ski Sărărie.
Data : 09.11.2014, ora: 11
UHC 2014 este un concurs ELIMINATOR. Cursa constă în etape eliminatorii, concurenţii (câte 4 sau 5) pornind simultan pe un traseu în urcare. Se vor califica în etapa următoare primii doi clasaţi din fiecare grupă.
Traseul, parcurs în urcare, are 500 m lungime cu 60 m diferenţă nivel şi va avea pe alocuri zone tehnice amenajate.
Inscrierea şi plata taxei, 25 lei , se face numai la magazinul X-Cycle până pe data de 07.11.2014. În taxa de inscriere este inclus un tricou UHC 2014.
Categorii : open masculin şi open feminin.
Şi în 2014 vom acorda trofeul KOM (king of the mountain) pentru cel mai bun timp scos pe segmentul respectiv, in oricare dintre manşele concursului.
40 locuri pe grila de start.
Recomandăm purtarea cu responsabilitate a căştii de protecţie!
Grătar şi voie bună pentru participanţi!!
Concursul este conceput ca o întâlnire amicală a cicliştilor din Iaşi la sfârşit de sezon, fiind în acelaşi timp o ocazie de socializare şi schimb de experienţă.
Info : tel. 0740853108 sau la Magazinul X-Cycle